Before you apply...
Signup for related jobs and career advice from Uncubed, delivered right to your inbox. You can unsubscribe at any time.
Technical Account Manager
Qualtrics, Washington, District of Columbia, United States
See jobs at Qualtrics
---
The Challenge
Qualtrics is on the cutting edge of Experience Management (XM); helping our clients to provide the best experiences for their customers and employees. We are seeking people to join an industry-leading team to help our clients ensure their most common touchpoints and experiences with Qualtrics are extraordinary. We seek people with the potential to become future leaders in the company­.
The Expectation for Success
Qualtrics' Technical Account Managers (TAMs) are highly experienced advocates and technology consultants dedicated to our largest and most strategic enterprise clients. TAMs provide a strategic partnership with 2-5 long term clients to accelerate adoption of Qualtrics technology and incorporate Qualtrics into client programs. In this role, you will provide technical solutions and configuration services in a post-sales capacity that directly contributes to the long-term success of our customers' programs. This unique combination of technical, relational, and strategic experience ensures professional success for our TAMs.
As a Technical Account Manager, you should both be a tech-savvy professional who is able to explain technical information to a non-technical audience and someone who excels at creating lasting client relationships. 
A Day in the Life
Thought Partnership & Technology Consulting
Assess long-term program strategy and identify solutions that drive measurable success

Evaluate your client's program needs and work cross-functionally within Qualtrics to prioritize and advocate for software feature enhancements on their behalf

Collaborate with internal account team and Qualtrics leadership on high level client relationship and program strategy
Technical Advising & Project Management
Demonstrate unparalleled product expertise and problem-solving acumen to recommend software solutions tailored to your client's needs

Develop a deep understanding of client goals and objectives to advise on relevant programs and technical solutions

Build systems to facilitate program objectives and system effectiveness and measure reliability of services

Assist clients with executing regular maintenance activities (e.g., handling outages, assisting with root cause analysis, troubleshooting technical questions and issues)

Train your clients on new and relevant features of the Qualtrics Experience Management (XM) Platform and related solutions
Technology Services & Configuration
Seamlessly integrate new product features into existing programs

Design and document functional and technical requirements and help scope projects by understanding timelines and associated levels of effort

Execute build and configuration services that align to client objectives and strategic goals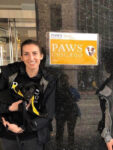 Kelsey is a Technical Account Manager at Qualtrics in Chicago. "The technical aspect is what initially interested me in Qualtrics, but as I went through the interview process, I realized there was so much more to the company."
Read more about Kelsey's story here: "Love for Learning and Humility"
Minimum Requirements
Bachelor's degree from a competitive university

1-5 years experience working in a technical, consulting, or client-facing role (years of experience will impact client ownership and scope of responsibilities)

Hard-working self-starter capable of concurrently running multiple projects in a dynamic environment

Comfort in working both autonomously and collaboratively

Ability to articulate technical concepts to a non-technical audience

Detail-oriented with an ability to prioritize and meet deadlines

Familiarity with software and front-end development

An ability to grasp clients' needs and recommend value-added solutions

Excellent verbal and written communication skills

Strong problem-solving skills
Preferred Requirements
Previous experience in a technical role and/or technical skills

Proven work experience in client-facing, consulting, or sales role
Benefits
Competitive salary

Semi-annual performance bonuses

$750 work from home stipend to set up your home office

In-office perks like catered lunch, snack bars, open seating work environment, and casual dress

Relocation bonus for out of state applicants

30 paid days off: 15 PTO days + 5 Personal Days + 10 Holiday Closures (additional PTO with tenure)

Qualtrics Experience Program - $1500 annually for an experience of your choosing (eligible after one year)

Fun, inviting, and inclusive work environment made up of passionate, kind, and smart people who exemplify what it means to be a team
Qualtrics Q-mmunity
We are proud of the community that has developed at Qualtrics. Every day it becomes more robust and, along the way, it matures and develops us into a better team through education, focus, advocacy, and fun. It is a solidifying piece of the #OneTeam mentality that we operate with.
The Q-mmunity is essentially a mix of the Q Groups, our Corporate Social Responsibility groups, and other social groups. These groups include but are not limited to MosaiQ, Q Pride, Q&Able, QSalute, and Women's Leadership Development (WLD). Take a deeper look at our Q-mmunity here.
Location
While we are optional-remote for the time being, Qualtrics is moving towards a hybrid model where employees will split their time between home and office work each week.
About Qualtrics
About us Qualtrics is a single system of record for all experience data, also called X-data™, allowing organizations to manage the four core experiences of business—customer, product, employee and brand experiences—on one platform. Over 8,500 enterprises worldwide, including more than 75 percent of the Fortune 100 and 99 of the top 100 U.S. business schools, rely on Qualtrics. To learn more, and for a free account, please visit www.qualtrics.com.
Want to learn more about Qualtrics? Visit Qualtrics's website.
Featured Company
Reddit is an American social news aggregation, web content rating, and discussion website.
---